Keeping your workforce safe has never been so important. Vehicles moving bulky loads have a far greater risk of collision with pedestrian workers.
Driver vision can be obscured or limited due to carrying large loads especially when driving around blind corners or operating in busy or confined spaces. The consequences of an accident with a reach stacker can be devastating and life changing.
Unfortunately accidents can occur and people have been severely injured or killed by the driver of a large industrial vehicle not aware that someone was in close proximity to their vehicle.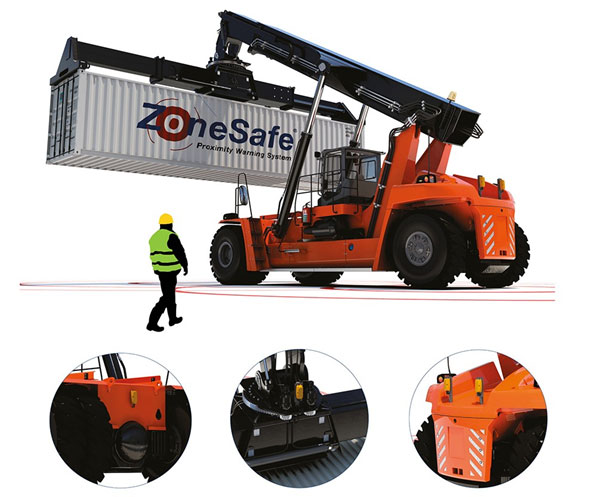 Why use Proximity Systems?
We use RFID technology to set up an invisible 360 degree detection zone around a vehicle or asset – often referred to as the danger zone or collision risk area. Using detection antennas, single or multiple zones can be set up with a detection range between 3-9 metres.
Antenna fitted on the vehicle– Provides a complete 360 degree detection zone around the vehicle.
Vehicle control box – Provides an audible visual alarm to the driver in the cab of detected personnel.
Personnel Tag – personnel carry tags which are detected by vehicles and trigger the alarm.
Install the system to any industrial vehicle
The system can be installed to all types of vehicles in ports and terminals including reach stackers, container handlers, forklift trucks and terminal tractors with a number of options available for either permanent or temporary installations.
Do more with system add-ons
The system can operate at walkways and crossings to warn of approaching vehicles, used with access control to prevent unauthorised access on to site and utilised to protect high risk areas and assets from vehicle collisions.