Reduce Risk Of Accidental Vehicle Collisions Within Construction.
The main safety issues on construction sites are caused by the fact that many different types of industrial vehicles and pedestrian workers all work on site at the same time in close proximity to one another. In addition visibility for vehicle drivers can be poor due to all the dust caused by the materials on site.
Therefore it is most important that the construction vehicle operator has full visibility around the vehicle at all times.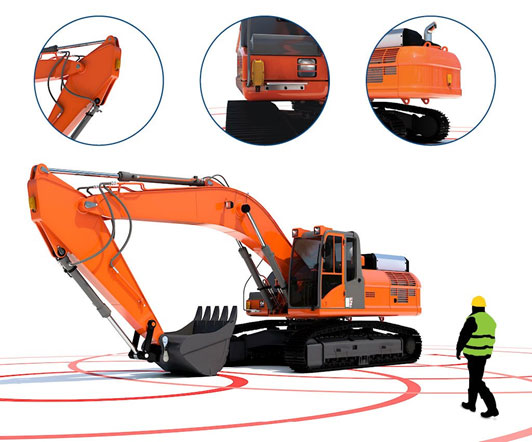 Implementing proximity warning systems can help to prevent accidents and reduce risks between pedestrian workers and work transport vehicles in the waste management and recycling sectors.
How does the Proximity warning system help protect personnel within the Construction industry?
In this example, the digger has been fitted with two units (to the vehicle and to the digger arm) and the pedestrian is wearing a tag.
The e unit creates a 360 degree detection zone around the vehicle and digger arm.
When the pedestrian wearing the tag enters the detection zone, an audible visual alarm is set off inside the vehicle cab to alert the driver.
Once the person leaves the safety detection zone, the alarm will stop.