No matter what type of environment, work sites often require vehicle access control within the site. Restricting access to authorised vehicles will support security, prevent loss or damage and reduce the risk of personal injury to staff and visitors.
The Vehicle Access Control System provides a hands free automated access control solution. Using RFID technology, the system provides authorised and controlled access through automated barriers, roller doors, shutters and gates.
How does the Vehicle Access System work in a warehouse environment?
The forklift truck has been fitted with a tag whilst the reader units have been installed near each barrier creating a detection zone. The reader is also connected to the barrier.
When the vehicle enters the barrier's detection zone, the barrier gets activated, rising to give access to the vehicle and lowering once the vehicle has left the detection zone.
The Vehicle Access System can be set up as a stand alone system or networked throughout the site.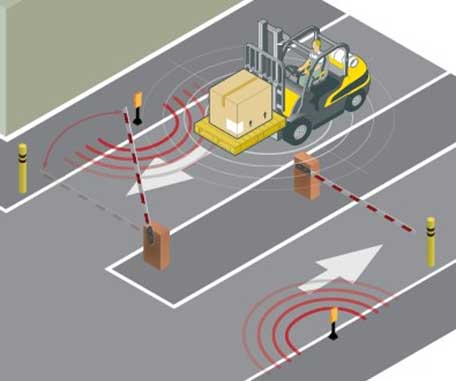 Set up, monitor and manage personnel access control with Insight Management:
Assign authorised tags
Track and identify personnel movement
Provide access history logs
Set up alerts & notifications
Restrict access & monitor unauthorised attempts
Check tag batteries
Use with Proximity Warning Systems