Work safety service based on modern technology
Safety for indoor and outdoor areas that utilizes real time location tracking. E.g. production site, warehouse, harbor, logistical terminal.
EmSafe prevents human-vehicle collisions, locate dangerous materials (e.g. gas bottles) or people in the case of emergency.
EmSafe consists of location trackers, small tracking tags attached to tracked objects, digital applications for user services and alarms and data analytics to improve work safety.
Collision warning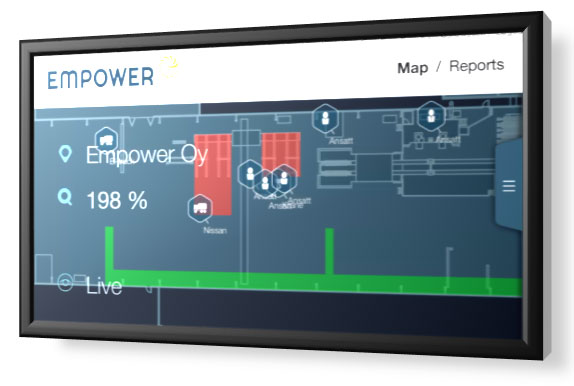 Calculated based on person and vehicle direction and speed – if both calculated vectors overlap near miss event is triggered
Active parameters for algorithm
Vehicle safety distance 2.0m
Vehicle entering distance (driver calculation) 1.5m
Alarms in dashboard
Between hook and human
Between forklift and human
Danger zone, red zone, no go zone
Compromised safety
Preconfigured area within the site where humans are not allowed to enter
Person entering compromised safety area triggers incident event in EmSafe
Human entering to area
Alarms in dashboard, icon turns red
Tag red led turn on constantly.
Pre warning danger zone, is not visible in dashboard
Tag red led start blinking
Green zone for visitors
Two different kind if tags
If visitor tag leaves green safe gangway zone, tag start beeping and led constantly lights green.
If visitor tag leaves green safe gangway zone, tag led start constantly lights red.
Heatmap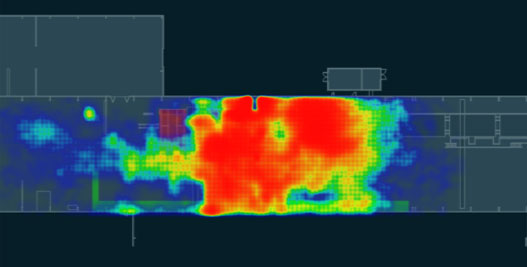 Heatmap visualizes all persons and vehicles by their location
View easily shows how factory floor is being utilized by persons and vehicles
Each active tag position is calculated and data is aggregated together in order to represent most frequently used areas
Usage is presented in color scheme from low usage to high usage.
Usage level (coloring scheme) is normalized in EmSafe engine in order to avoid high usage peaks to dominate visualization.
Heatmap selection (today excluded):
24h = previous full day
7d = previous 7 full days
30d = previous 30 full days
Real-time statistics about site
Employees and visitors
Active vehicles (forklifts and cranes)
Help in incident investigation
Near-miss incident playback visualizes situation at site during incident. All vehicle and person routes are stored in EmSafe datastore. Playback feature fetches all active routes one minute before and after the event.
Visualizing routes
White = Person involved in incident
Orange = Vehicle involve in incident